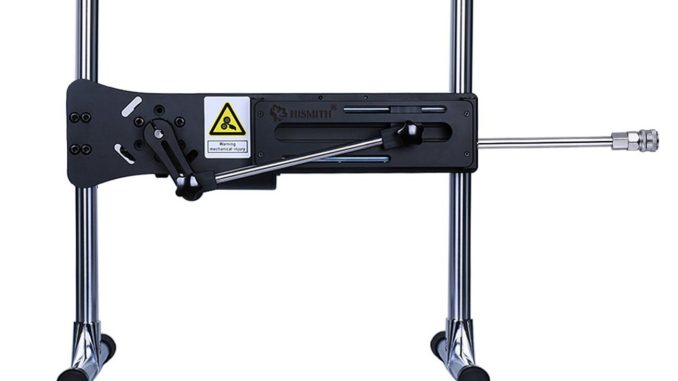 Introduction
There is no doubt that sex machines have revolutionized the world of sex all over the world! They are increasing in popularity and they can help women (and men) fulfill their urges without the need for a guy in the physical form. Although they are more expensive than your more standard sex toys, they definitely have way more advantages. With so many sex machines on the market however, it's difficult to know which one to go for. The Hismith sex machine continues to be one of the best selling on the market and is very popular with customers. Take a look at this review for the Hismith premium sex machine so that you can learn more about the product and decide if it's right for you.
What is the Hismith sex machine?
The Hismith sex machine is exactly what it sounds like! It's a mechanical machine with a dildo attached that you can literally have sex with whenever you like. The machine moves by itself so all you need to do is lay back and enjoy the realistic sensations brought by the machine. You can get in all your favorite positions, making sure the machine is adjusted to the correct height for your body before just having fun! If you are quite new to the world of these kind of naughty products, this is the best sex machine to start with because it will be effective no matter what your needs/situation is. You can enjoy it by yourself or with a partner, either way, you are not going to want to leave the bedroom for hours! It might look a little daunting at first but it comes with full instructions for guaranteed easy assembly and use. It is posted in a discreet box and it's fairly quiet, so you won't have any nosey neighbors gossiping about your naughty purchase!
The Technical Information
Before we get into the fun stuff like reviews from actual customers, let's take a look at the specs of the product including product details and what is included for your money.
Specifications
Machine dimensions: 18.4*4.7*5.9inches- Power Input: 110V-240V 50/60HZ
Output: DC 24V-5A
Motor Power:50W
Nosie:30~50 db
Machine Body Material:ABS,chroming Iron & Aluminium alloy.
Product details
High power motor, 120 watt mute turbine.
0-90 degree adjustable angle for your personalized pleasure.
Easy to assemble and disassemble with full instructions that are easy to follow.
Soft and realistic dildo included for use with the Hismith sex machine.
Plain packaging, coming in a discreet box to ensure your privacy at all times.
The thrust depth can be adjusted using the torsion bar on the product.
Pros
Some fuck machines are quite basic but this goes above and beyond, personalized for you. You can easily adjust the height and position of the machine by moving the crank. You can enjoy all your favorite sex positions with the Hismith premium sex machine.
There is actually an updated version that has even more features that makes the machine stand out for others including a remote control that helps you control the speed/depth of penetration.
If you are using this machine instead of a sexual partner, that's an advantage on its own. You get all the sexual benefits of a relationship without any of the conflict or over-dependency. On the other hand, this top rated device can really spice up your romantic relationship if you are stuck in a bit of a rut.
The big advantage of sex machines in general is that they move inside you and out again without you doing anything. A regular dildo has to be moved in and out by your hands which can be rather annoying. The automatic motion of this machine makes it feel much more realistic and makes the sensation even more amazing. Orgasms are pretty much guaranteed with sex machines but the same cannot always be said for dildos on their own.
It is easy to assemble and take apart, with full instructions coming in the discreet box with your purchase.
The machine can fuck you as fast as slow as you want and as deep or shallow as you want. Everybody enjoys penetration at different levels and this special feature makes the Hismith premium sex machine perfect for all customers. You can adjust the machine easily yourself to alter these, which you can read more about later in this review.
The rods and dildo itself is super easy to clean for your guaranteed hygiene at all times. Cleaning the Hismith premium sex machine on a regular basis will mean that it will last you longer.
This machine is made with the highest quality materials and providing it's looked after properly, it has a lifespan of 10-15 years.

Cons
It is expensive for a sex toy but when you consider how amazing it is and how long it can last you, it really is worth the investment for many customers.
Some say that the dildo included with the product is not long/thick enough but this is easy to swap for another dildo of your choice if you prefer something larger.
Product Video
What do the customers say?
Now that you know the specifics and the technical details of the product, it's time to know what ACTUAL customers think of the Hismith sex machine. As a potential customer, this is the information you really care about. Does the product work as well as it's claimed? It's time to find out! Below you can find a few snippets of what real people have said about the Hismith premium sex machine, you can find more detailed reviews on Amazon.
"This was my greatest sexual experience ever, I must have had 3, 4 or 5 quivering orgasms!"

"All I can say is wow, this machine is amazing. I wish the dildo that came with it was bigger but it's easy to buy another to fit onto the product".

"I put it together with no trouble and it's so good! The dildo feels realistic and you can adjust it to go as deep as you want."

"My wife finds it difficult to orgasm but after just a few thrusts of the Hismith premium sex machine, she was screaming in ecstasy."

"This is my first fuck machine and I'm so glad I spent the extra money on a great one. The machine is easy to assemble and works even better than what I could have imagined."
As you can see, this best selling sex machine is very popular and hopefully once you purchase the product and see the same benefits, you too will leave a thriving review to help other customers in the buying process.
Things to keep in mind
Before using the machine, it's recommend that you use 1% Benzalkonium,Bromide or 75% medical alcohol to disinfect the machine. Cleaning and also drying the product on a regular basis will help to prevent rust and wear.
It might be necessary to use some lubricant on the dildo to increase your sexual pleasure.
Observe the speeds and ease into it gradually until you choose the right one for you. It's recommended that you start at medium depth and slow speed before increasing until fully satisfied.
When adjusting the machine, make sure to hold the main frame to prevent it collapsing suddenly and hurting your toes. Also be sure to screw the buckles in place firmly when adjusting in case it becomes unstable.
Obviously due to the nature of this product, once it's been used it cannot be returned for a refund. However once received, do check all the bits are in the box or if you change your mind about the item before use, it can be returned to Amazon for a full refund.
The sexual posture of the machine
Not everybody likes their penetration at the same type of angle which is why the posture of the Hismith premium sex machine is easy to adjust. The crank on the machine can be moved into different positions and in addition to this, you can adjust the height of the product itself to suit your personal needs. You can lay on your stomach, squat or get on all fours to enjoy the power of this fuck machine. Trying out all the different positions possible is sure to give you orgasm after orgasm for hours on end!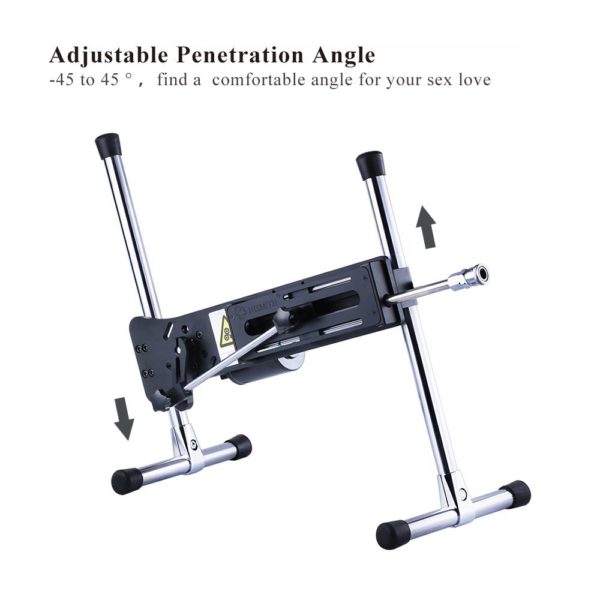 Options of depth for all customers
The position of the knob can be adjusted by unscrewing it, to amend the rotation radius. This will mean that you can enjoy a thrust depth of between 1.2 inches to 6 inches. Whether you are experienced or a beginner at sex machines or sex in general, this means you can find out what's enjoyable for you. Using a vibrator on your clit while the sex machine fucks you is an option, or you can just use the Hismith premium sex machine as deep as it will go.
The foundations of the machine
Obviously at the price of $400, you want a machine that is strong and steady on its feet. You can be rest assured this is the case with the Hismith premium sex machine. The base rods are made from chrome plated steel so this machine is not going to move an inch when put into position. You definitely get what you pay for with this device as it's one of the strongest ones of the market. Providing that you put the product together correctly, it should be a trusted member of your life for years to come.
Frequently Asked Questions (FAQ)
To read a full list of the frequently asked questions by customers, you can head over to the Amazon page for this product. Here are some of the best rated Q&A however, in order to make this review a little more complete and give you even more information about the device.
Q. Does the Hismith premium sex machine require extra tools to assemble?
A. No, everything you need is included in the box meaning you can set it up and use it right away.
Q. Does the machine work with extra large dildos?
A. Yes, This machine has a powerful motor and sturdy stand enough to support extra large dildos. You can search ASIN: B0727VFPZ8 B07258R92R on Amazon for a larger dildo of 9.8 inches.
Q. What is the difference between Hismith and Hismith new design sex machine?
A. The "new design" has a more elegant outlook, it is also possible for wireless control. You may control it with a remote and you will also receive a wired controller with the "new design." The "new design" has the same motor specifications as the "hismith" and is also $1.00 cheaper. The updated "new design" also includes a suction cup adapter for use with any dildo with a suction cup on it.
Q.Instructions say to oil it after 3 months. What kind of oil do you recommend to keep the machine in good condition?
A. Any High-Temp Wheel Bearing Grease is ok, you can search the keywords :High Temperature Wheel Bearing Grease on Amazon you can find what you want. Mobil Polyrex EM Electric Motor Bearing Grease is Recommended.
The next step
If you have made the decision that the Hismith fuck machine is something that you want in your life, you can purchase the product on Amazon right now. It's actually now over HALF PRICE at just over 400 dollars so it's well worth taking advantage of this deal. Although the machine is available on many websites online, Amazon is the most reliable and cheapest place to make your purchase. You can read more about the product here including customer reviews, frequently asked questions and more. Better yet, after you order the item – it will be delivered right to your front door in prompt timing for you to have fun with.
Conclusion
Now that you know exactly what this machine does and a whole lot more, the rest is up to you. The pros definitely outweigh the cons in regards to the Hismith fuck machine as you can see from the information that has been provided, which is why it's one of the top rated products of this nature on the market. Customers who have purchased and used the machine are in general VERY satisfied with how it works for them. I highly recommend the product to those looking to have even more fun in the bedroom, whether on their own or with a partner. Sex doesn't have to be as secret or as boring as what it used to be, embrace your sexuality today with a Hismith sex machine.

Related posts: