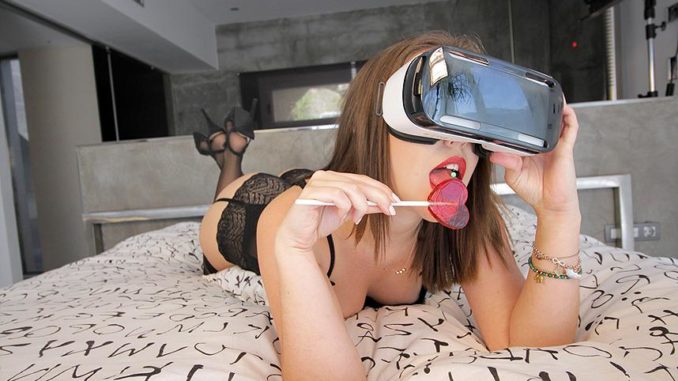 VR is going to change the entire porn experience completely. In the future, it will revolutionize the entire porn industry and will lead to viewers like you and me reaching new heights of pleasure.
When, a few years ago, Facebook bought the Oculus VR Company, many observers were puzzled as to whether or not they intended to combine it with their social media site.
Well, unsurprisingly, Facebook is intending to use VR to enhance their site in several different ways. The most interesting one that is at the forefront of their development is 3D VR chat rooms, where Facebook members can meet friends to chat.
The possibilities of these 3D chat rooms are endless. Imagine just slipping on your VR headset and going to Paris to take a walk down the Seine River with a friend, how amazing would that be?
One of the industries pushing VR technology hardest is, in fact, the porn industry. The reason for this is that 3D technology has the potential to take porn to exciting new levels that promise to make the experience more realistic than ever.
VR promises to allow people access to everything from VR sex porn to VR interactive cam sites where people can actually interact in 3D with the girls and boys they are talking too. 
The Top Virtual Reality Cam Sites
Alice X VR was one of the first cam sites built specifically for VR technology. The quality of the VR is excellent and beats most of the other VR sites hands down. The site also has a good number of models who are all very attractive. The majority are white, but there are some girls from other ethnic backgrounds too. There are quite a few girls, something which is rare in VR chatrooms. With so many girls, the site is almost certainly going to have a few for you.
What is really great about the site is that the models perform in front of a blue screen. This allows them to change the background environment from time to time, helping to keep things fresh and exciting. There is even a language option that filters the models, leaving only those that can speak the language you have chosen. There are currently 8 different language options including English, French, Spanish, Dutch, Italian, and German.
Another great thing about the site is that the most basic access package is completely free! Users will be able to watch the models and even chat with them via text message without having to pay a dime. If you decide you like the site and want more access then there are paid memberships that let you talk to girls in real-time via a voice to text function, give you access to 'premium' content where the girls really get naughty and a bunch of other really great features as well.
The main drawback to the site is that seems to disappear far too often. In the past, the site has been offline for long periods of time with no word when it would be back online again. At the time of writing the site is offline.
Cam4 is another can site that has been around for ages. Started back in 2007, it is one of the most popular cam sites on the internet today. The site caters for regular cam chats as well as VR ones thanks to a recent pair up with entrepreneur Ela Darling of VRTube fame.
The real thing that Cam4 brings to the table is not only its extensive background in sex cam chat sites but also its huge number of models. Though the number of girls on the VR part of the site is nowhere near the number on the regular part, there is still a good amount of really stunning models for viewers to watch. The models on this site are definitely the most diverse of all the VR sites, giving viewers plenty of choice of girls from all around the world.
Like Alice X VR, Cam4 offers a range of membership options for VR customers. Basic signup is free and gives you general access to the site. Other memberships will give viewers access to a number of extra features that can be used on both the VR and normal site.
Now for the drawback, and it is a big one. Currently, the Cam4 VR site is only offering a few live chat shows for VR. This literally means that users will need to wait for the girl to change if they don't like the one in the current chat room. This is a huge inconvenience and one that really disappoints if we are totally honest. Hopefully, they will open some more VR chatrooms in the near future because otherwise this is a great site.
CamSoda is an established cam sex platform that has begun to incorporate VR into its site. One of the site's chief innovations is that it now has a range of exclusive VR videos, VR live shows that work with Kiiroo's teledildonic devices.
These excellent masturbators are not only highly regarded by their users, but also fully automate the process of getting off. This leaves you completely hands-free to sit back and just enjoy the experience to the max.
This all makes the CamSoda experience the best out there at the current time. The main drawback is that the site doesn't always stream live VR shows, meaning that viewers have to catch it when they can. Since there is no information as to when the next VR live cam show will be, this can be really frustrating.
The company that brought the world Virtual porn 360, once the leading VR porn site, has now launched Peep 360. Many of us were extremely sad when we heard that Virtual porn 360 would close, so the launch of Peep 360 is music to our ears.
The most noticeable thing about the Peep 360 site is just how much better it looks than all the other cam sites. It has a really classy design that seems to have all the right information and links just where you need them.
The site features a number of free VR videos and free signup. To get access to all the really juicy stuff, viewers will need to sign up for the premium package that costs $24.99 a month.
Why VR cam sites are so much better than normal 2D ones
Despite having been around for decades, VR technology is still in its infancy. Oculus was created as a tiny startup by a few guys who were barely out of their teens. Since companies like Google and Facebook decided to get in on the action, VR development has seen a massive amount of investment.
VR cam sites have an enormous potential. While the current technology limits what can be done with VR cam sites, as this becomes more and more powerful, things are set to get a whole lot more interesting.
In the future, users won't need clunky VR headsets to engage in VR sex, rather brain implants will allow the whole VR environment to be directly sent to the brain. Not only will this make the whole experience seem totally real, but it will also one day facilitate the ability of users to touch and even smell the person they are having VR sexual encounters with.
All this is quite a way off into the future; so sadly, we will just have to wait. While it might not feel totally real, current VR technology is still doing great things to improve the all-around experience. To give you the best idea of what sites are out there, we have compiled a list of the best VR cam sites of 2018.
More on VR cam sites
For those who are interested in taking a look at one of our best VR cam sites of 2018, but are still on the fence, here are a few things that will certainly persuade you its worth while. Let's take a look at the main advantages of VR cam sites over their older 2D rivals.
Advantages of VR Cam Sites:
Improved Experience
When we watch porn or talk to hot girls in online chat rooms, all of us buy into what has been called 'the fantasy'. The basic psychology behind this is quite simple.
We undertake self-deception in an attempt to make ourselves believe that the man or woman we are fantasizing over is talking, feeling, kissing, and having sex with us. This is why so many porn films use the point of view shots and cam girls always talk to the camera like you are in the room.
The problem with watching porn or talking to cam girls on a laptop or smartphone is that you are always aware that you are looking at a screen and not the real thing. VR headsets are designed to fit over a person's head to isolate his/her senses.
A small screen projects the image very close to the eyes making it seem more real. Not only that, but these headsets actually allow the user to turn their head too. As they do, the image will mirror the action so it looks like real life.
One of the main drawbacks to the current technology is that the degree by which a user can actually turn their head is limited to around 45 to 90 degrees in most cases. Some chat rooms do let viewers turn their heads the full 360 degrees but these are rare.
However, for most porn, producers rightly gamble that very few people are going to want to take their eyes of the beautiful men and women that are naked in front of them. The ability of VR to create a more lifelike visual experience has gone a long way to boosting user experience and overall levels of sexual stimulation.
Heightened Eroticism
The main benefit to this heightened experience is it has helped to boost the overall eroticism by making the fantasy seem far more real than before. Because the whole fantasy seems so much more real, users report an increased sense of sexual arousal, which is great news for all of us.
The cam sites, in particular, have benefited from VR upgrades. Girls can now turn on their viewers even more by approaching them very closely and doing things like rubbing themselves on the viewer's lap. So arousing is this new level of realism that much first time VR users find that they climax long before the girls get down to the serious action.
Drawbacks to VR Cam Sites:
Unfortunately, there are a few big drawbacks when it comes to VR cam sites.
Clunky and sometime uncomfortable equipment.
The most obvious drawback to VR is the headset you have to wear. For those viewers who like to spend a long time in chat rooms, the headset can also become quite a bit of a nuisance. Despite being made of plastic, these headsets are still quite noticeable when on. Just think how different your face feels when you put on a pair of glasses, now imagine how a VR headset feels.
Also, with the exception of Google's low priced VR headset, all the other major sets require serious hardware to even run VR. Your computer will need a sizable graphics card that is designed for VR too. If you don't have a computer that is capable of running VR, the cost of getting one will almost certainly run into the $1,000's.
Not enough VR cam sites
The major drawback to VR cam sites is quite simply, there are not nearly enough of them. In fact, up until recently, there were only a couple of fully dedicated VR Cam sites. To top it off, the content being offered through these sites was severely limited, something which immensely frustrated viewers.
While things have gotten better, the number of sites and their range of content is still severely limited. Honestly, there is nothing worse than joining a site only to find your selection is limited and what's on offer doesn't cater to your preferences.
The majority of the girls on VR cam sites are white, which also limits the fantasy quite considerably.
More expensive than regular sites
Perhaps because of the 'uniqueness' of VR sites, or because of the new technology required to film content for them, VR sites generally cost a lot more than their normal counterparts. This is definitely something that does put a lot of people off paying for VR content, especially as the selection is really limited too. 
Related posts: