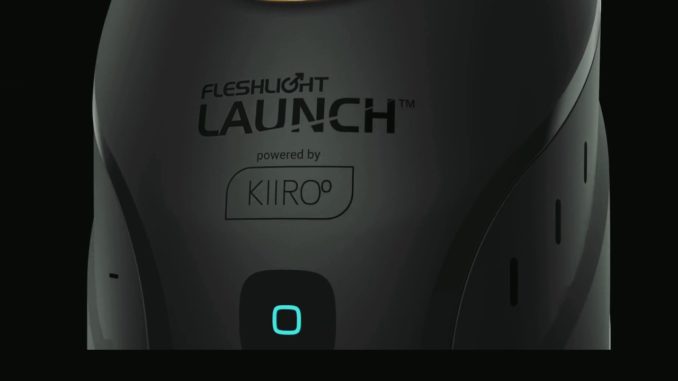 Are you looking for the most advanced and pleasurable way to enjoy your free time? We are in the midst of a technological revolution where new self-pleasure products are being released left and right.
The new release by Kiiroo, the Fleshlight Launch will take you to a new world of virtual sex.
This product is advancing the virtual sex industry with its new features and the pleasure of use. Try using a virtual reality headset to get the full experience of this product.
Kiiroo Fleshlight Launch
This new industry leading product has just been released by Kiiroo, and wow is it something special.
The Launch features a grand 4.4-pound body; it stands 12.5 inches tall and is 6.5 inches deep. When you are focused on your alone time remember to be careful with this heavy product so you do not crush the family jewels.
This fully automated male masturbator easily connects to your fleshlight of choice, and features three modes: automatic, manual, and interactive. When using manual mode, the Fleshlight Launch is capable of up to 180 automated strokes per minute.
Able to connect to your phone or computer to make sure you always have the latest updates installed for the best experience.
This product also features an interactive mode that we will go over more later.

In the Box
When you receive your Kiiroo Fleshlight Launch you will get all you need to begin having fun. The box includes the Fleshlight Launch of course. Also including the USB charging cable (6-9 hour charge time) and a one year warranty in case your new best friend gets tired of doing the work for you. You will also find an authenticity card in case your friends think you got the knock off version. Show them a quick look at that card and they will know you mean business. A quick set up manual is also included so you can experience an easier process getting your fleshlight set up and ready for use.
This product is unique and interactive. You bet it will have updates just like your phone to give you the best performance available. You will have access to regular remote updates so you can upgrade while it's charging before your next endeavor.
Getting to Action
Once you receive your new virtual sex toy you will be eager to give it a whirl. The amazing thing about this product is how easy it is to set up and use. It is easy to configure and change the settings during action to resemble the results you desire.
Grab your fleshlight of choice (sold separately), insert it into the top of the device, and secure it by twisting it to lock it into place.
Not compatible with:
Turbo products
Ice products
Flight products
Go products
Quickshot products
Once your fleshlight is secure and you have double checked grab your lube of choice and apply it to all necessary areas.
Hold the power button on the device for 3 seconds this will automatically launch you into interactive mode. (indicated by blue-lit mode button)
To change modes, hold down the mode button for 3 seconds and this will put you in manual mode. Here, you control the speed and length of the stroke you desire.
If you fancy the automatic mode more press the power button for one second to begin the automated stroking.
You will find on the side of the Launch product tick marks and a plus and minus button. With these options, all you have to do is slide your finger in the proper direction to change the speed and length of the current stroke.
For more information about the interactive mode keep reading.
Interactive Mode
The Kiiroo Fleshlight Launch is a special product designed and built for a special purpose, to enjoy the most out of your private time.
With multiple modes and features one of the most noted is the interactive mode.
So what exactly is the interactive mode?
Short answer, it allows to feel what you see when watching your adult videos.
FeelMe is the only website that introduces a full interactive adult experience. Here you can find:
Interactive video content
Interactive virtual reality content
Interactive webcam performers
Interactiv 3D gaming
So what exactly does this mean?
FeelMe shows off a lot of content on their site to help you get the best experience possibly. It helps assist with those who are looking for the best virtual sex experience. It allows you to feel what you see in real-time. All you have to do is connect your Kiiroo Fleshlight Launch. Put it in interactive mode and follow the steps on the FeelMe webpage to get it up and running for an experience that is changing the game. You can get connected to FeelMe for free today by following three simple steps on their page to assist you in signing up.
When viewing content on FeelMe what you see is what you get. When connect to your phone or computer you will feel the experience. Whatever acts are being performed in the content the fleshlight Launch will react accordingly and make you feel as if you are there.
I hope to see FeelMe website page continue to grow. With this I am sure tons of new sites and products will be available for interactive use so you never have to use your hand again.
Once connected and ready to go make sure you check out all the modes possible, including feel your lover where you can experience your lover even if they are in another country.
Reviews
Now that you know all about Kiiroo and Fleshlights's new product you should also know the first batch is already sold out. However, they are available now again for $200 which is a great price tag when you look at what you are getting.
Whether you are a simpleton or have complex needs and wants during your self-pleasure this product will be a go to.
Able to change all the settings from stroke length and speed. To even exchanging the Fleshlight for a better or different experience the Launch will allow you to modify to get the best results.
I have read many reviews and posts relating to this new product and they are all positive. With this product, men are able to experience a new type of sensation with automated settings so you can sit back and let it do the dirty work for you.
This is a step in a direction you may have never even though of but now you are thinking you should check it out, and you certainly should to experience the effortless pleasure this product has to offer. You do not need to be a tech wizard to use this product; you will find it very easy to use and set up.
Why a Fleshlight?
Most men fantasize about ways to experience the best ejaculation possible. Not all of us have girlfriends or wives that can help and some of us do but they are still not always around when you need that special release.
Fleshlights will bring you to a whole new world if you are looking for faster, easier, and better means of self-pleasure.
Whether you have tried one before or not that does not mean you should ignore the Kiiroo Launch. This product will make you question why you didn't buy one earlier.
It isn't always in our best interests to get our hands dirty every time we need satisfaction. With this we turn to tools to use like the Kiiroo Launch in order to get the fulfillment we deserve.
Masturbation is a healthy way of life to help us:
Boost our mood
Reduce stress
Improve sleep
Look younger
Prevent prostate cancer
Cure a cold
There are a lot of reasons to implement masturbation into your daily or bi-daily life. By improving your overall health, reducing stress, improving sleep, helping you look younger, and prevent prostate cancer. These benefits will be easily attainable with the Fleshlight Launch by Kiiroo in an effortless and fun fashion. This way you can be living life the best you can with the best tools in your arsenal ready to use.
Overview
This new Fleshlight is lighting a path way for future innovations and inventions of new self-pleasure techniques. This is really good for the future of the pornography industry, you will start to see more website like FeelMe pop up and will begin to have access to more and more content.
The Fleshlight Launch by Kiiroo is an amazing design, but with every product it has its pros and cons.
Pros
Automatic, Manual, and Interactive mode options
Easy to set up and begin using
Quickly change your settings during use
Tasteful Design
Compatible with loads of different fleshlights
What I like
The pros listed above are what make this product stand out in the fast changing pornography and self-pleasure industry. With three mode options, you can get the best use possible depending on your desires. Between being able to use manual, automatic, or interactive modes it will make the experience more personal to cater your desires.
It is very easy to set up and begin using, charge it for a couple of hours hold the power button and get started. During use, you will find it very easy to change the settings (stroke speed/length), simply slide your finger up or down on the interactive side panels to change the output, and get great results. It features a wonderful design that is discrete if it happened to be lying around when it shouldn't be.
On top of all of these pros mentioned above one that stands out the most is the compatibility of use with other fleshlights in order to fully customize your experience. This allows you to use more than one fleshlight attachment so you can experience new or different feelings.
Cons
Charging time
Weight/Height specifications
FeelMe compatibility
What I dislike
Although this product is mostly filled with pros there are a few cons to mention. The charging time can be a hassle if you intend to be a regular user. From six to nine hours, charging time can take a while before you can get busy again. It does not require batteries and charges via USB which is nice but will take longer than desired on some occasions.
This machine weighs roughly 4 pounds, a lot of weight to be sitting over your fragile areas. You need to be careful and take necessary safety precautions before use in order to get the best results. This product is about 12in high and 6.5 inches deep so stuffing in a drawer might not be the best or easiest option available.
If you are looking to conceal this product I would look for a place to put it prior to purchase. This fleshlight introduces the interactive mode, unfortunately the only service available is the FeelMe website. I added this on the cons list due to it being the only service available to users for an interactive experience, but we can all agree this will soon change. With the way technology is moving these days don't be surprised to see many of these new products popping up left and right.
Recommendations
The future is now and with products like this self-pleasure has never been easier and more fun.
If you are looking for new ways to pleasure yourself or if your wife is out of town a lot I would highly recommend giving this product a try. It is filled with features and modes that will help you get the most satisfaction from your down time. You can buy this product for $200 from Kiiroo's website and it is worth every penny.
With this you will be able to experience the new means of masturbation techniques and styles. It is easy to set up and use, with a lot of compatibility for the use of other fleshlights.
Still not sure if you should buy? Check out Kiiroo's website and watch a few videos explaining just how amazing this product is. This will help you make that all important decision and show you that it really is worth the purchase.
Related posts: