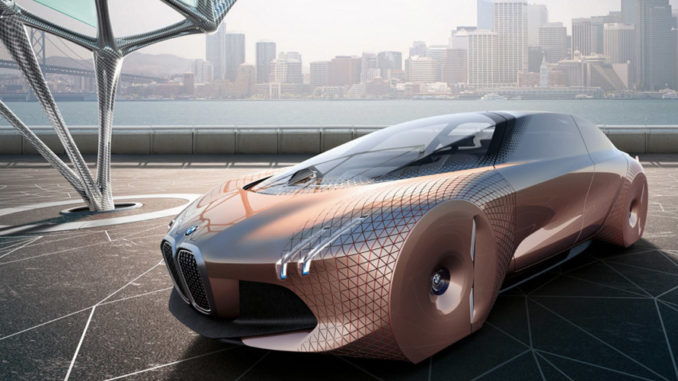 Source: www.dezeen.com
BMW and a team of psychologists are working on developing an AI for their robot cars that will befriend and build relationships with their owners.  The technology will be focused on building trust with the car owner and making passengers feel safe, since they will be relinquishing control of the car to the robot.  This is great news for the sex robot industry as the research and developments in AI that can build relationships is very applicable to creating better sex robots.
Here are some of the more interesting snippets from the article:
On the human issue of trusting robots to drive: 
"People have assumed that the main barriers to autonomous cars are technological and legal. But what about the human barriers? Will people feel safe? Will they trust their cars?"
"I don't think regulation, insurance and those kind of barriers will hold back this kind of technology. I think we are going to find solutions to overcome them. But how do we give humans this safe feeling when they are being driven around by a robot? I think the psychological barriers are probably more important than the legal barriers."
More on trust and feeling safe:
"We are working now with psychologists in this area to find out what is the right approach to make people feel really safe. I guess partly it's also a generational issue. I have a 19-year-old son. I don't think that he will have an issue with jumping into a robot and being driven around. But elderly people who are used to being in control…
At the end of the day it comes back to going from being in control, to all of a sudden delegating this control to a machine. This makes it complicated psychology-wise.

It's a little like flying. Most modern jets don't need a pilot, but would people fly in an aeroplane without a pilot? Probably not. People would probably refrain from doing it. So on the car side it's hard to judge how long this will take to be accepted by society."
On relationship building robot AI:
" That's a really interesting topic to be honest. I am fascinated by this myself. You saw it at dinner when we had this robot dinosaur on the table. Our brain tells us this is a machine but at the same time you immediately build up a human relationship with this animal. The question is, is there a way of doing something similar with your future robot car? It's really a companion that helps me to make my life easier. Is there a way of doing it?
I don't have an answer for you but I think it's very fascinating to really look more into this area and learn also. I think what we have to learn more about this area, how can it be that we really build up a relationship."
Closing Thoughts:
Based on the article it seems BMW are just beginning to solve the question of how robots can best befriend and build relationships with humans.  Their goal is to build trust and make their passengers feel safe, for people working on sex robots it will be to build an emotional connection and intimacy, both are quite similar psychologically. Luckily, their job is made easier by the fact that humans have shown they are more than willing to trust and build relationships with computers and technology (think iphone addiction), it will be the psychologists at BMW's job to build upon that.
It will be very interesting to follow this BMW initiative to see what they come up with and how it may influence the sex robot industry, stay tuned for more updates.
Related posts: