Meet the robot that gives a blowjob almost as good as the real thing
In recent years, sex toy manufacturers have come up with some great blowjob robots but the Autoblow 2 has to be the best yet. Let's be honest for one second. For us guys, there is nothing better in this world than getting a really good blowjob. It might sound a little crass but the truth is the truth.
Getting a good blowjob is not only enormously exciting and pleasurable but also actually helps to relax guys and reduce stress as well. It doesn't take a survey to discover that men would happily welcome being able to get blowjobs more frequently. That is where the Autoblow 2 comes in.
There are loads of reasons as to why men might be unable to get a good blowjob. Single men might struggle to find a partner to give them one. Men who are in long-term relationships will almost certainly have found that as excitement levels begin to fade, so does the frequency of the blowjobs as well. Even experienced 'players' go through periods when they are not able to get a hookup and so end up in what could be termed a 'blowjob drought'.
No matter what the reason why a guy might be lacking blowjobs, the experience can actually be deeply frustrating. The great news is that the sex toy industry has developed the Autoblow 2 to help guys find the relief that they need so badly. The Autoblow 2 is a blowjob robot that gives such great blowjobs that it is, in many cases, almost equal to the real thing.
Get a great robotic blowjob with the Autoblow 2
The most important thing about male masturbators is that they have been specifically designed and tested by men, on men, to make sure that they really give the best possible performance. Ask any woman and she will tell you that a vibrator is able to stimulate them better than a real penis, and this is exactly what designers of male masturbators are aiming to achieve as well. 
You only have to look at how many different hoover designs are out there to guess that blowjob machines are not all the same. In fact, they vary enormously in terms of quality and performance so it really pays to make sure you get the best one.
Main types of penis stimulators
•    Water pumps
Water pumps have been around for a good number of years now. They were an evaluation of the vacuum pumps that for anyone who has ever seen the first Austin Powers movie were designed to aid penis enlargement. The water pump works on the same principle by using hydraulic pressure to enlarge your penis. Though not designed as male masturbators, they allow guys to 'stretch' their penis out to its largest size so that it is ready for action.
•    Manual stroke male masturbators
The most common type of male masturbator is the manual 'stroker' that is basically a silicon wrap that you use on your penis as you jerk off. These manual strokers come in a huge range of shapes and sizes but all aim to give the penis a better sensation as you masturbate.
•    Male Vibrators
Male vibrators fit over the top of the penis and use vibrations to stimulate the guy. Not to everyone's tastes, a male vibrator will stimulate the sensitive tip of the penis, turning up the excitement dramatically. Most manufacturers claim that their device will bring a guy to climax, but without an automatic penis stroking mechanism, many guys can't.
•    Fully automatic male masturbators
The most recent design of penis stimulator arrived with the release of the Autoblow 2. These devices are in their infancy but allow for completely 'hands-free' automatic masturbation. Once attached, they use an onboard motor to generate penis strokes that mimic the pumping action of normal masturbation or a blowjob. The automatic masturbator promises a more realistic than ever pleasure experience.
Product Description
The Autoblow 2 is a new and innovative design that has set a new bar for artificial blowjob robots. Since its release, it has received rave reviews and has become one of the best-loved blowjob machines on the market.
This revolutionary robotic sex toy offers the most realistic deep fellatio experience to date. Though it is not quite as good as the real thing, it is so close that it is not hard to make the important leap in your imagination.
As the world's first fully automatic blowjob robot, users only need to plug it in and lube it up, then they can just relax and let it do the rest. The unit is mains powered so it is not only able to produce really powerful stokes but is also able to go on for as long as it takes you to climax.
Users have reported just how much they enjoy being able to use the device for extended periods of time, something which would otherwise be a big ask for their partners. So for those people who enjoy extended blowjobs which don't ever diminish in quality, then the Autoblow 2 is the perfect solution for you.
Realistic Feel
The Autoblow 2 features a 'real-feel' inner sleeve that is designed to mimic that of a real human mouth. It creates the really familiar sensation of the penis sliding in and out of a wet mouth, giving the user all he needs to believe that it is real.  The wet feeling comes from a lube that you apply before you start. Since the user can choose how much lube they want to apply, their blowjob can be as wet or as dry as you like each time.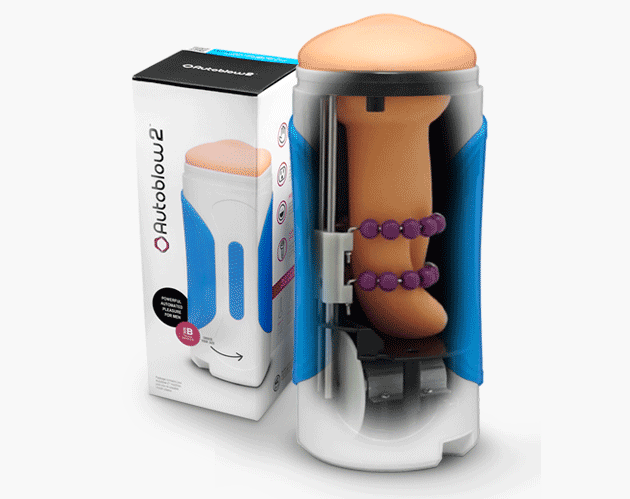 The Autoblow 2 is completely automatic and requires no human input so far as motion or anything else. Once attached to the guy's erect penis, it only needs to be switched on and it will do the rest. To 'stroke the penis, it has two rows of beads that use elastic to tightly wrap around it. When the unit is switched on, these then mimic the hand action by jerking the guy off according to the speed setting that he has selected. The whole thing fits snugly around the penis and honestly doesn't feel that strange at all after the first few minutes.
Sizes
The Autoblow 2 is available in 3 different sizes to suit all needs:
•    Size A: 7.5 – 10cm
•    Size B: 10 – 14cm
•    Size C: 14.5 -16cm
The design has a 4" cycle that gives a really nice and comfortable stroke each time. Provided you take care to buy the size that is most suitable to your penis size, you won't have any issues so far as comfort goes. The Autoblow 2 has already undergone extensive testing on a huge range of penis types and sizes meaning that you can rest assured that it will be just fine on yours too. 
Once you have lubed it up, inserted your penis and set the speed that you most desire, the Autoblow 2 will do the rest. The only drawback of the experience is that it will continue going at the same speed even after you climax, which doesn't feel quite right.
The great thing about this blowjob machine is that you can use it literally anywhere and at any time. Imagine how great it is knowing that come rain or shine, you can get a good quality blowjob? This machine never has a bad day or is too tired to suck you off. As long as you have mains power it is ready to go day or night.
Some people prefer to use it while lying down, but most prefer using it while sitting at their computer watching porn. A few customers even report throwing it into the mix when having sex with their partner, freeing up his or her lips to attend to other parts of the body. Now, who could say no to that?
Cleaning and maintaining your robot sex toy
Thanks to the removable inner sleeve, cleaning the Autoblow 2 is really simple. Gently remove the sleeve and you can rinse it out in a matter of seconds. For those guys who plan to use the Autoblow 2 regularly and are worried about the sleeves wearing out, the good news is that the sleeves are also interchangeable, meaning that new ones can be added with very little fuss. The whole unit is relatively small and so is easy to discreetly store away from prying eyes. Otherwise, aside from making sure you are stocked up with lube, there is no other maintenance involved. The Autoblow 2 really is a mistress that demands very little.
Drawbacks
For those guys who want the Autoblow 2 but have neighbors or even parents who are light sleepers, there could be one serious drawback to the design. The device's motor makes a loud whine that really can be off-putting, especially if you are someone who wants to keep your behavior discreet.
Probably the worst part when using the Autoblow 2 is the edgy feeling worrying that a rogue parent or roommate might come walking past your door and starting wondering why there is always a whining sound coming from inside your room.
If you are lucky, they might just assume that you have taken up a love for scientific experimentation and never bring it up. However, if they become suspicious and barge into your room then, well, let's just say that you might soon find yourself deleting your Facebook account and moving to Alaska.   
How does the Autoblow 2 square up to other robotic blowjob machines?
While it is true that the Autoblow 2 faces stiff competition (if you will pardon the pun) from some really good male masturbators, thanks to its fully automatic features it is undeniably the design that on the market today. While it doesn't have the Xtreme Head Exciter's ability to pleasure the tip of the penis and is not as easy to clean as the Men's SOM Rocket Blowjob Machine, the Autoblow 2 definitely has the competition beat when it comes to the most realistic 'hands-free' wet blowjob experience. 
Autoblow 2 Key Features:
•    Fully automatic deep throat masturbator
•    No need to thrust
•    Variable speed settings
•    Realistic feel
•    Available in different sizes
•    Not made of any harmful materials or chemicals
•    Latex-free
Drawbacks:
•    The unit will continue on at the same speed after ejaculation until it is turned off.
•    Sound of the motor can attract attention
Final Thought
Most guys tend to see it as some slight on their manhood to use a male masturbator as if it somehow implies they are sleazy. After all, if they need a blowjob then they can just go out and find someone to do it for them, right? 
Times are changing and thankfully people's attitudes are slowly coming into line with technology. Remember the early days of online dating apps such as Tinder when it was considered only for desperate people who were sad and lonely? How things have changed.
Male masturbators are a great way to find the release you need when you need it. Though it is still far from replacing a human blowjob, the Autoblow 2 offers the most realistic 'artificial' blowjob yet. It offers the maximum possible pleasure at a very reasonable price, making it an excellent option for any guy out there who is willing to try it out.
So whatever the reason you can't get a blowjob, then never fear because help is here, and it comes in the form of the Autoblow 2, the best robotic blowjob sex toy ever.

Related posts: